Reaching out to Nepal
The Tony McClean Trust works amongst the Shudra communities of the Lamjung District of Nepal. It's designed to meet the socio-economic, health, educational and spiritual needs of Shudra and other marginalized people.
One of the things we pride ourselves on is our low running costs as a trust. Because we're entirely run by volunteers who are passionate about the cause, 99.9% of all the funds we raise end up over in Nepal making a difference in the lives of people who need it. But because all our funds are sent out of the country, we haven't automatically been eligible for tax refunds until now.
TNT are really pleased to announce that as of 01 April 2017 we've been granted 'donee status' by IRD. This means that our donors are now able to get a full tax rebate on all donations made to us.
Now there's never been a better time to support the work of the TNT trust.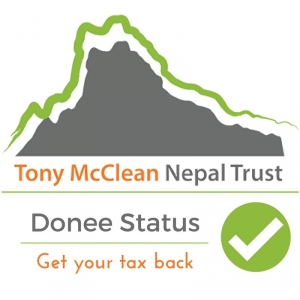 WAYS TO DONATE:
Please kindly email us so we know who to thank!
1.  Via Bank Direct Payment:  Account 12-3237-0085472-00
2. Via PayPal: Click button to take you to the PayPal system
Thank you for considering a donation to our organisation, we sincerely appreciate your contribution to enable us to carry out Tony's vision.